Visit Sundarban Tiger Reserve
Tourist can get entry into STR only with the booked in registered boats. Licences to the boats are already registered in STR management.
Tourists should travel by either of the means mentioned below to boat boarding point at Godkhali and Dhamakhali (as per your tour operator instructions). So tourists are advised to contact tour operators or boat which is available online and make their bookings before reaching Sundarbans.

Note:
In case of private cars of the tourists, there is a private parking space at Godkhali Jetty Ghat.
Boats entered into the STR compulsorily have ecotourism guides by the boats. Tourists are not responsible for this.
No special permits are required for foreigners.
Travel and Stay Tips
Nearest City
Kolkata is the nearest major city, which can be reached via train either to Sealdah or Howrah.
Rail route
The nearest railhead to Sundarban Tiger Reserve is Canning Railway Station. Trains (EMU) to reach Canning, are available from Sealdah at an interval of every one hour.
Air Route:
The nearest airport is Netaji Subhash Chandra Bose International Airport, Dumdum.
Bus Route:
Buses to reach Sonakhali and Godkhali are available from Esplanade, Kolkata.
Buses to reach Dhamakhali are available from Sealdah, Babughat (Esplanade), Barasat and Science Ci
Ferry Service:
One can reach Godkhali or Dhamakhali by bus route. Thereafter, one can avail ferry to reach Sajnekhali or the nearby destinations. West Bengal Tourism Development Corporation organizes guided tours from Kolkata.
Within Sundarban, the only way to get around is by boat or launch.
Kolkata to Godkhali Jetty Map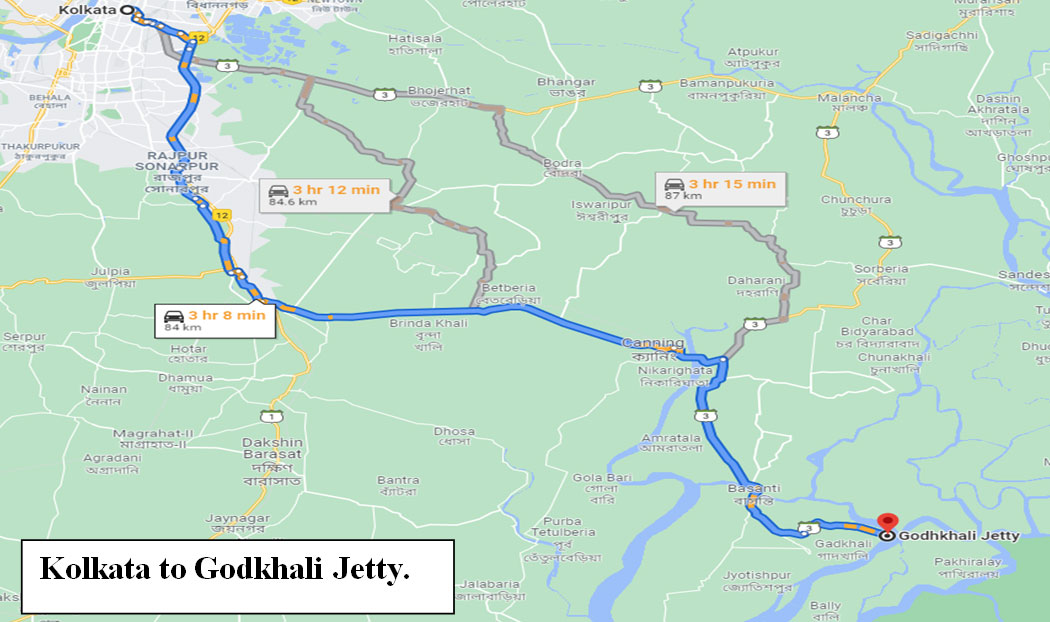 Kolkata to Dhamakhali Map