Batagur Baska
---
River terrapin is one of the important species of estuarine ecosystem, not only it takes green plants but also it takes rotten food items and clear the water, hence it is called ' water vulture'.
Habitat:
The species is found in parts of Bangladesh and Indian Sundarban (West Bengal), Bhitarkanika in Odisha (India) and Malayan archipelago. It is locally extinct from Myanmar, Singapore, Thailand and Vietnam. It is believed to be functionally extinct in the wild across its range, with surviving individuals being held completely in captivity. It is an aquatic species but uses terrestrial nesting grounds, frequenting the tidal zones of estuaries large rivers and mangroves.
Threat
Overexploitation of eggs,
Destruction of its mangrove habitat by anthropogenic pressures,
Habitat destruction due to catastrophic events like global warming, ocean acidification, shifting of the mudflats and sandy shoreline and,
Illegal hunting are the major causes of the local extinction of the species.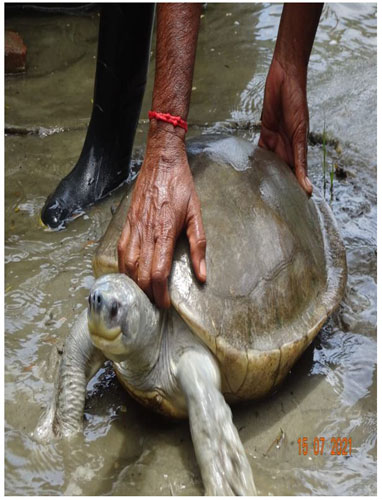 Nesting
Northern River Terrapin prefer nesting in colonies on sand banks. During January to March, River terrapin in the Sundarban nest in the sea coast and lays egg in clutches comprising of 19-37 numbers, measuring 40-60mm; the incubation period being 60-66 days.
Breeding season:
The species prefers freshwater habitats and moves to the brackish river mouths in the breeding season ( mostly in September- November).
Ex-situ conservation programme:
A hatchery and captive breeding project is located in Sajnekhali WLS in STR. The ex-situ conservation programme reinstated with the help of Turtle Survival Alliance in the year 2012 and has achieved the results successfully.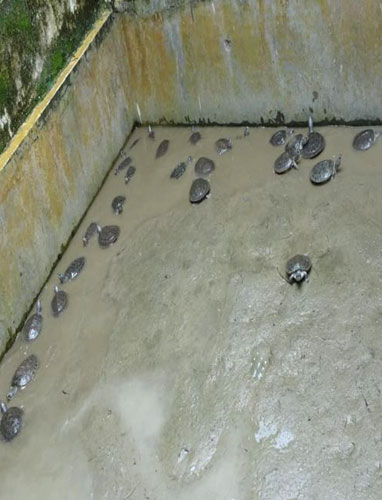 Achievements:
By 2014, 144 individuals of the river terrapin at Sajnekhali breeding centre representing the world's largest ecology of the species. As the numbers are increasing gradually, six more assurance colonies has been set up as by the year 2020 with more than 350 individuals. Continuous monitoring on several water parameters and vegetation, food resources will increase the numbers of this critically endangered species.
Recent Status:
As Sundarban is a storm prone area it became compulsory to set up assurance colony for the River Terrapins.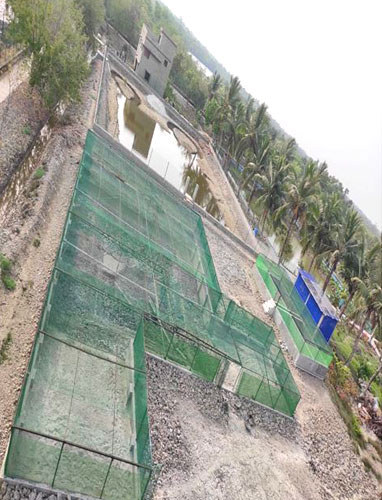 Present stock of Batagur baska in Assurance Colonies under STR.
| Assurance Colony | Male | Female | Total |
| --- | --- | --- | --- |
| Chamta | 7 | 13 | 20 |
| Jhingekhali | 3 | 13 | 16 |
| Netidhopani | NA | NA | 34 |
Depicts the camp-wise data on River Terrapin in recent year, 2021.
Camp name
Number of Batagur baska in Pond at present
No of Ponds for Batagur baska
Type of pond
Water source
No. of Batagur baska
BB 1-3 Years of age
4-5 Years of age
 5-8 Years of age
Sajnekhali Camp
223
2
Assurance Colony
Rain
1
62
68
62
1
Hatching Pull / Breeding Center
Rain
-
-
-
3
Yearling Pull / Breeding Center
Rain
-
-
-
2
Safe shed
Rain
-
-
-
1
Water Reservoir tank
Rain
-
-
-
Incubation Center
----
31 newly hatched on 12/5/2021
-
-
1
93
68
62
Dobanki Camp
40
1
Assurance Colony
Rain
-
40 nos.
-
Netidhopani Camp
34
1
Sweet Water
Rain
Nil
Nil
6 Year 10 Months
Jhila
22
1
Big Pond with 2 no channel connected with River Water
River
---
---
---
Jhingekhali
16
1
Small
Rain
---
---
---
Harikhali
44
2
Big Pond
Rain
---
---
---
Chamta
12
2
Assurance Colony
Rain
---
---
12
TOTAL
391