Mangrove ecosystem supports a wide assemblage of animal communities. It is the home of many animals which live entirely within the mangrove, several others visit this zone either foraging or to breed.
Conservation Status:
This unique mangrove ecosystem with its numerous ecological niches is home to over 1586 faunal species, among them 15 mammals, 8 species of birds, 17 species of reptiles are included in Schedule I and II( rare & endangered) of the Wildlife (Protection) Act,1972. 14 species have been listed in Appendix I of CITES.
Mammals:
Sundarban is the only mangrove ecosystem in the entire world to harbour tigers. In the food chain, Royal Bengal Tiger is the topmost land based predator in the Sundarban. Tigers in Sundarban have adapted to the saline water and are excellent swimmers and have a variable diet ranging from fish, crabs, and smaller animals to wild boar and cheetal. In the extremely stressed conditions tigers have taken man as an easy target, and often termed as 'man eaters'.
Other mammals of interest are:
Gangetic Dolphin, Irrawady Dolphin,Cheetal, Rhesus macaque, Wild boar, Fishing cats, Leopard cats, Small Indian civet , Common otter,
Black finless porpoise etc. are also reported from the area.
Extinct species of Sundarban:
As per earlier records mammals like Javan Rhino, wild buffalo, barasingha, barking deer and leopards etc were once found in Sundarbans.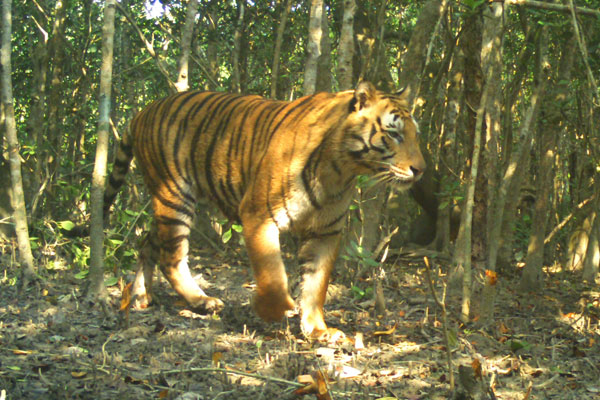 Tiger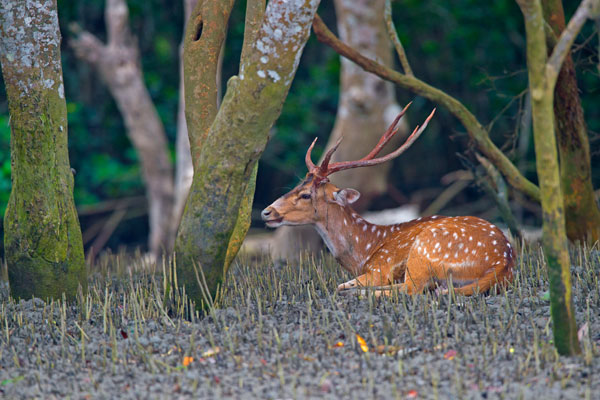 Chital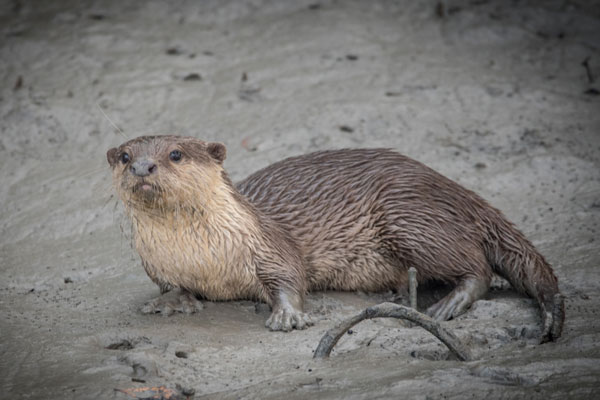 Otter
Dolphin
Birds:
Sundarban is rich in avifauna. Recent surveys have revealed the presence of over 300 species of birds. These include a large number of migrants from higher altitudes visit the area especially in the winter months.
The waders include:
Sandpipers, Spoonbills, Whimbrels, Stilts, Thick knees, Curlew, Green shanks etc. are found in the mudflats and sandy shoreline.
Some important raptors include:
White bellied sea eagle, Osprey, Brahminy kite, Shikra, Crested serpent eagle, oriental honey buzzard (occasionally), short toed eagle etc.
Herons found here are -
Pond herons, Grey heron, Purple heron Night heron etc. Other common species of birds found here are- Cormorants ( little and intermediate), Indian shag, Yellow footed green pigeon, Seagulls, Egrets, Sunbirds, Cuckoos, varieties of ducks, Geese and Storks (especially the Lesser Adjutant stork) etc.
Rare species-
1. The Goliath heron is extremely rare and is seen occasionally.
2. Buffy Fish Owl is another rare but important species found in the region
There are major threats to these species as per conservation ecology.
Sundarban is also called as a "Kingfishers' Paradise " due to presence of 10 species out of the total 12 sp. of kingfishers found in India.
Note: During monsoons a number of heronries are formed where species like egrets, herons and open bills have been found to nest.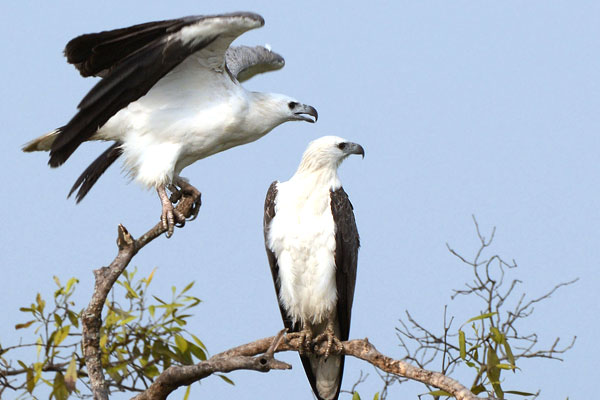 White bellied sea eagle
Reptiles:
Reptiles are also present in good numbers in this region.
Saltwater Crocodile:
The endangered Salt water/Estuarine crocodile is present in good numbers in the numerous rivers and waterways. Bhagabatpur Crocodile Project is assigned to conserve and breeding purposes of them
Water monitor lizard (Varanus sp.) is also found in good numbers here, and a threat to the eggs of the terrapins and crocodiles.
Snakes:
Apart from crocodiles other reptiles present in abundance are snakes, namely: King cobra, Common cobra, Russell's viper, Common Krait, Rat snake, Chequered keel back, Green whip snake etc.
Note: Snake bite is a major cause of mortality in Sundarbans.
Turtles:
Water turtles include:
Indian soft-shelled turtle, Spotted pond turtle, Flapshell turtle etc.
Sea turtles include:
Olive ridley, Green sea and Hawksbill turtle.
River terrapin (Batugar baska) is another endangered reptilian species found in the area which is endemic to this region.
Remarks: Research and Conservation breeding programme on Batagur baska and Crocodilus porosus is going on successfully at Sajnekhali and Bhagabatpur respectively is the foresighted vision of the forest department.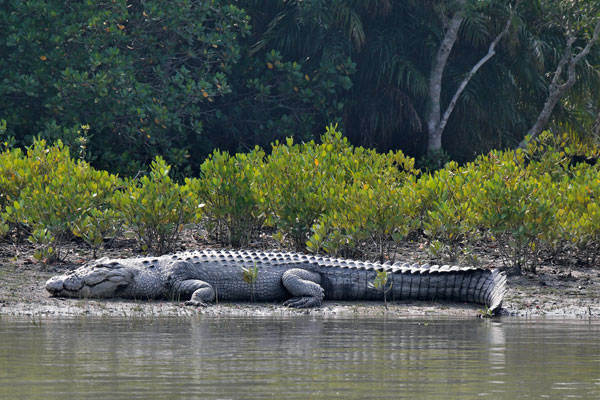 Crocodile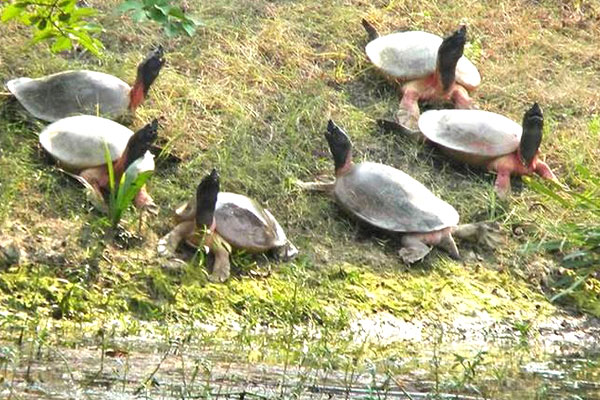 Batagur baska
Amphibians :
The amphibious mud skipper viz. Peripthalmus and Boleopthalmus and various frogs are frequently seen moving around near boat- jetties and mud banks.
The creeks and rivers of Sundarban are affluent in icthyofauna, malacofauna and arthropod fauna.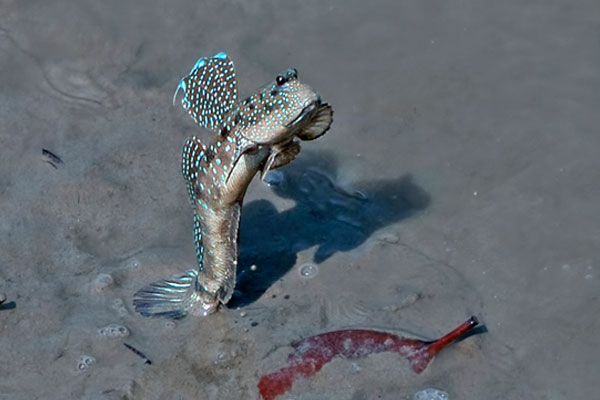 Mud skipper
Fish :
Species of Shark and Rays like :
Ganges shark white spotted shovel nosed guitar fish, Pondicherry shark Indian dog shark, Bull shark, Hammer headed shark , Black tip shark , Pale edged sting ray, Black edged sting ray etc.
Other edible fishes include:
Hilsa, Bhetki, Pomphret, Parshey, Gurjali, Amude, Ram fita, Churifita, Topshey etc.
Invertebrates:
Crabs and shell fish:
Among the crustaceans seen are many species of prawns including the tiger prawns which are an important source of revenue as they have a good export market. Another found in the wild- Hermit crabs (Clibnarius spp.), Fiddler crabs (Uca spp.), Red ghost crabs (Ocypod sp.).
Trilobites:
Extremely primitive species of trilobites commonly known as Horse shoe crabs which are highly endangered species and regarded as living fossils are also found here.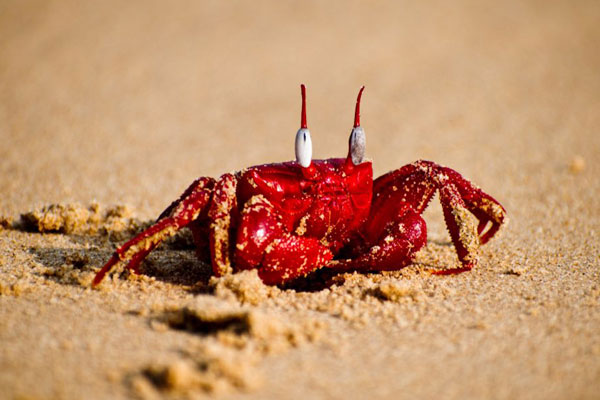 Red crab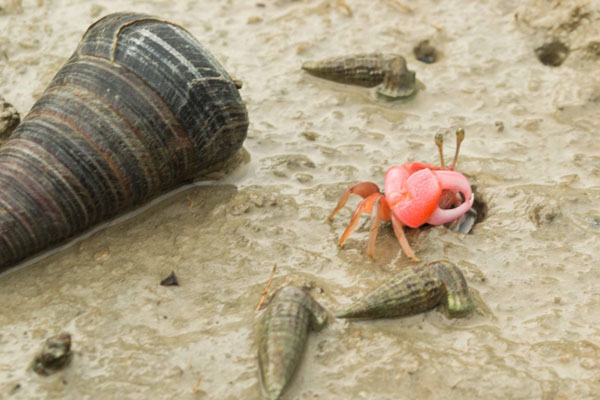 Hermit crab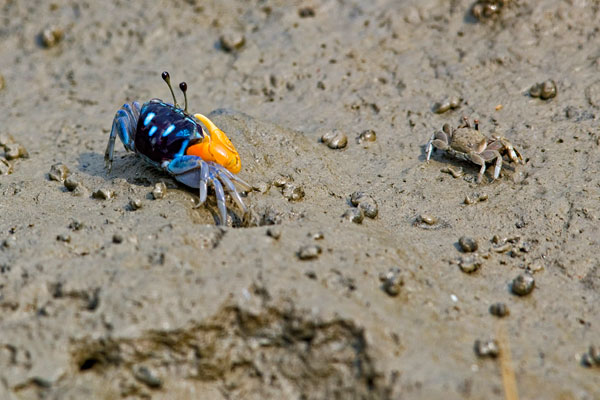 Fiddler crabs